Present Season
Tickets can now be booked online via our Box Office. However we are not able to accept donations via the Box Office! We do hope that you will consider a donation however small to help us in these difficult financial times so we are including a donate button on this page. If you are able to Gift Aid your donation this is even more helpful - please contact us via our contact page and ask for a form to be sent to you.
2018- 2019
Concerts for this, our 89th season, take place once again on Sunday afternoons in the Ivor Gurney Hall, Pitt Street, GL1 2BH, at 3.00pm. Please contact us if you need directions. We feature a wide ranging programme with some surprises and include performers from Europe and outstanding young musicians.
Sunday 7 October 2018, 3.00pm

Zelkova Quartet
Winners of the St Martin's Chamber Music Competition 2016

Haydn - String Quartet in B minor, Op 64 no 2
Janácek - String Quartet no 2 "Intimate Letters"
Debussy - String Quartet in G minor, Op 10

Sunday 4 November 2018, 3.00pm

Jan Škrdlik - cello, Petra Besa - piano

Beethoven - Cello Sonata no 3, Op 69
Dvorák - Cello Concerto arr. Dvorák
Franck - Sonata in A
Sunday 2 December 2018, 3.00pm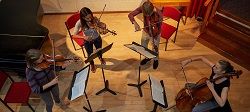 Musicians from the Yehudi Menuhin School
Mozart - Piano Sonata in C minor, KV 457
Mendelssohn - String Quaret no 2 in A minor, Op 13
Shostakovich - String Quaret no 4 in D major, Op 83
Sunday 20 January 2019, 3.00pm

Willshire Piano Duo

Schubert - Fantasy in F minor, D940
Fauré - Dolly Suite
Rimsky-Korsakov - Scheherazade
Sunday 17 February 2019, 3.00pm
Trio Opal
Winner of the Senior Intercollegiate Piano Trio Competition 2018


Schubert - Adagio in E flat "Notturno", D897
Brahms - Piano Trio in C minor, Op 101
Rachmaninov - Trio Élégaique no 1 in G minor
Beethoven - Piano Trio in E flat, Op 70 no 2
Sunday 10 March 2019, 3.00pm
Chamber Philharmonic Europe

Vivaldi - Concerto in G minor, F.XI no 21
Abinoni - Concerto in E flat major, Saint Marc, for trumpet and orchestra
Bach - Violin Concert in E major, BWV 1042
Suk - Serenade for Strings, Op 6
Albinoni - Adagio in G minor for String Orchestra
Nielsen - Little Suite for Strings, Op 1

Booking has now opened. You can book on this website, and we will keep a note of your name as we will not be issuing tickets and of course you may also pay cash or cheque on the door, subject to availability. Those taking out a subscription for the season will be issued with a membership card.