Incredibly we celebrate our 90th anniversary in the 2019-2020 season and after much fund raising we are pleased to announce six special concerts of English music which we hope you will enjoy. Details are on our Concerts page and bookings are now being taken so we hope you will join us.
Here is the poster for our second concert on 3 November.
Here are the messages regarding our first concert on Sunday 13 October at which disaster was averted!
The message below was left only a very short time before the concert and did not reach a number of people who arrived expecting the advertised programme. However we had a truly memorable recital with James on splendid form and Anna making magic on the piano so I think I can safely say that this was indeed a celebration as everyone left with a smile and with joy in their hearts! We are so fortunate to have an excellent reviewer at our concerts! Please click here to read the review by Julia Price.
Yes our anniversary is here but we began it with the news that the Fitzwilliam Quartet had, at short notice, had to withdraw from the first concert. After a frantic time contacting virtually all the quartets in the country we were unable to find a replacement at such short notice. However, every cloud has a silver lining and I am pleased to say that James Gilchrist and Anna Tilbrook kindly offered us the following replacement programme, which we gladly accepted and were delighted that they performed to such a large and appreciative audience.
Purcell - Evening Hymn and Music for a while; Ireland - The Soldier, Blow out, you bugles and Spring Sorrow
Vaughan Williams - On Wenlock Edge; Walton - Three Sitwell Songs - Daphne, Through gilded trellises and Old Sir Faulk
Vaughan Williams - Songs of Travel
Our sincere thanks to James and Anna who have been incredibly supportive about this!
Some practical messages regarding help needed!
We hope to continue with our regular raffles and hope you will not only support these but also bring suitable prizes to be raffled. We are grateful to Mair Shankster who has organised these for many years but will be stepping down after the first concert, so if you would like to volunteer to help with this we would be delighted to hear from you.
Mair will no longer be preparing refreshments for the artists so if this is something you could help with then please get in touch. (This involves a simple offering of sandwiches, cake, fruit etc - we do not expect Bake Off standards!) We like to have the refreshments available at 12 noon when most artists arrive to rehearse.
Christine Talbot-Cooper has prepared a booklet giving a brief history of the Society and this will be on sale at the concerts for £5, with all proceeds going to the Society.
We are pleased that with your support we have been able to have our publicity and programmes professionally printed by Whitehouse Press in Lydney, who have supported our Society for many years.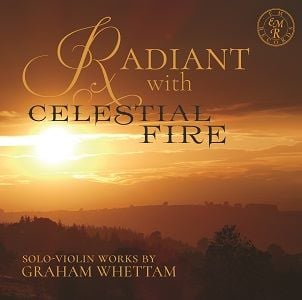 Prior to our first concert we took part once again in Gloucester Heritage Open Days on Saturday 14 September at 2.00pm at St Mary de Lode Church when we launched a new CD by Rupert Marshall-Luck of the Solo Violin Music of Graham Whettam. Graham had a special connection to our Society and Christine Talbot-Cooper, our Chairman, has supported the production of this CD. We thank all the members and friends who joined us for this special event which included a suitable toast to the composer! CDs will be on sale at our concerts.