UPDATE SEPTEMBER 2021
Apologies to those who have tried to book tickets online. Hopefully the problem is now being resolved and it should be possible to book by 16 September, but please contact me if you continue to have difficulties.
Thank you to you all for your patience during this most trying period. I am sorry to say that plans to hold our belated AGM on Thursday 15 July at St Mary de Lode Church at 7.30pm had to be postponed as the church was not available due to covid restrictions. Sadly the replacement date for Thursday 12 August at 7.30pm at St Mary de Lode was cancelled due to the death of John Talbot-Cooper our Treasurer, leaving the Society in a very difficult position.
I have updated the website with details about our forthcoming season, opening with the Mithras Trio, which has just been chosen as a BBC Young Generation Artist. I am delighted to announce that we hope to include a performance of the postponed "In Gloucestershire" which will take place on Saturday 30 October at 7.30pm at St John's Church, Northgate Street, Gloucester. All other concerts will be in the Ivor Gurney Hall on Sundays at 3.00pm. If you booked tickets for the previous performance of "In Gloucestershire" then of course they will be valid for this concert.
Congratulations to our President Julian Lloyd Webber on his OBE. We are delighted that he has been recognised for the immense contribution he makes in so many aspects of music!
On 11 September we made our contribution to Gloucester History Week by arranging a talk by Dr John Harcup OBE entitled "Edward Elgar inspired by ...8 subjects beginning with the letter P." at the Ed Shed. This proved to be a very strange venue but Dr Harcup gave a fascinating and informative talk to a select audience and we are once again indebted to him for his support of our Society.
It will be so good to have live music and to see you all again and until then I leave you with my best wishes and thank you for the many messages I received on the death of my husband.
Christine Talbot-Cooper, Chairman
During 2020 we received the sad news that one of our Trustees, David James, had sadly died. We have sent our condolences to his wife and family. Condolences have also been sent to Tony Boden, one of our Vice Presidents, on the loss of his wife Anne, who was a huge supporter of our Society and also to Elizabeth Taylor on the loss of her father Michael, who for so many years attended our concerts in his mobility scooter. They will all be sadly missed.

Incredibly we celebrated our 90th anniversary in the 2019-2020 season and after much fund raising we have been pleased that the concerts of English music have received much support and enthusiasm from members and friends alike. It has been particularly gratifying to see our audience numbers continuing to grow. So it came as a huge blow when coronavirus struck and ended our season prematurely, and as the months go by it continues to be unclear how our future will unfold. We ask for your patience as we navigate these uncertain times and we hope it will not be too long before we can enjoy your company once again.
We were sorry to announce that due to the problems with the Coronavirus, we were not permitted to use the Ivor Gurney Hall for this concert. In consideration of the government restrictions we therefore postponed the concert but rest assured that tickets will be valid once we are able to reschedule!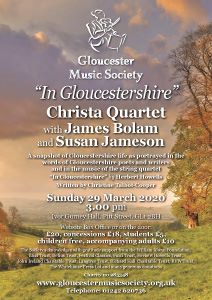 News from earlier in the season!
Our first concert saw disaster averted when the Fitzwilliam Quartet, at short notice, had to withdraw due to illness. However, every cloud has a silver lining and I am pleased to say that James Gilchrist and Anna Tilbrook kindly offered us the following replacement programme, which we gladly accepted and were delighted that they performed to such a large and appreciative audience. The revised programme was:
Purcell - Evening Hymn and Music for a while
Ireland - The Soldier, Blow out, you bugles and Spring Sorrow
Vaughan Williams - On Wenlock Edge;
Walton - Three Sitwell Songs - Daphne, Through gilded trellises and Old Sir Faulk
Vaughan Williams - Songs of Travel
Our sincere thanks to James and Anna who were incredibly supportive about this! For a review of the concert by Julia Price please click here.
Our piano recital by Maria Marchant proved to be no ordinary event with some wonderful playing which included the first performance of Soliloquy, commissioned by our Society from Adrian Williams. We were delighted to welcome Paul Conway to the concert and he wrote a splendid review for Musical Opinion - one of the few music magazines which seems to consider the work of music societies such as ours to be of importance! We were pleased to have a review also from Julia Price - please click here to read it.
The final concert of 2019 was a splendid recital by the Villiers Quartet which left the audience wondering why we had not heard more of these fine English quartets! Julia Price was on hand once again to review the concert - please click here to read it.
For our first concert of 2020 we welcomed back the members of the Carducci Quartet who have been friends of our Society for many years. Their programme began with a tribute to Beethoven in his 250th anniversary year followed by quartets by English composers. A review of the concert by Julia Price can be read here.
Our second concert on 23 February 2020 welcomed back the chamber choir Octavo which performed a wonderful programme of English part songs from Tomkins, Byrd and Weelkes to Britten and Tavener by way of Howells, Ireland, Finzi, Delius, Holst, Quilter and Vaughan Williams, to name but a few! It was a hugely demanding programme performed with style and enthusiasm. To read the review please click here.
Some practical messages regarding help needed!
We are continuing with our regular raffles and have been pleased that not only have you supported these but have also brought suitable prizes to be raffled. An excellent place for any unwanted Christmas presents! We are grateful to Mair Shankster who has organised these for many years but plans to retire, so if you would like to volunteer to help with this we would be delighted to hear from you.
We would very much appreciate practical help prior to the concert to ensure that artists are welcomed on arrival for rehearsal at 12 noon and their refreshments and other practical things dealt with. At present this task falls to the Chair and the Treasurer, who both have many other duties to attend to!
Christine Talbot-Cooper has prepared a booklet giving a brief history of the Society and this will be on sale at the concerts for £5, with all proceeds going to the Society.
We are pleased that with your support we have been able to have our publicity and programmes professionally printed by Whitehouse Press in Lydney, who have supported our Society for many years.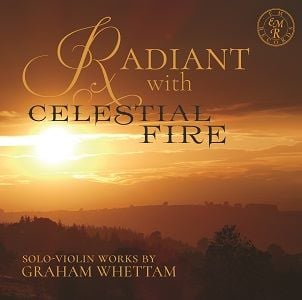 Prior to our first concert we took part once again in Gloucester Heritage Open Days on Saturday 14 September at 2.00pm at St Mary de Lode Church when we launched a new CD by Rupert Marshall-Luck of the Solo Violin Music of Graham Whettam. Graham had a special connection to our Society and Christine Talbot-Cooper, our Chairman, has supported the production of this CD. We thank all the members and friends who joined us for this special event which included a suitable toast to the composer! CDs will be on sale at our concerts.